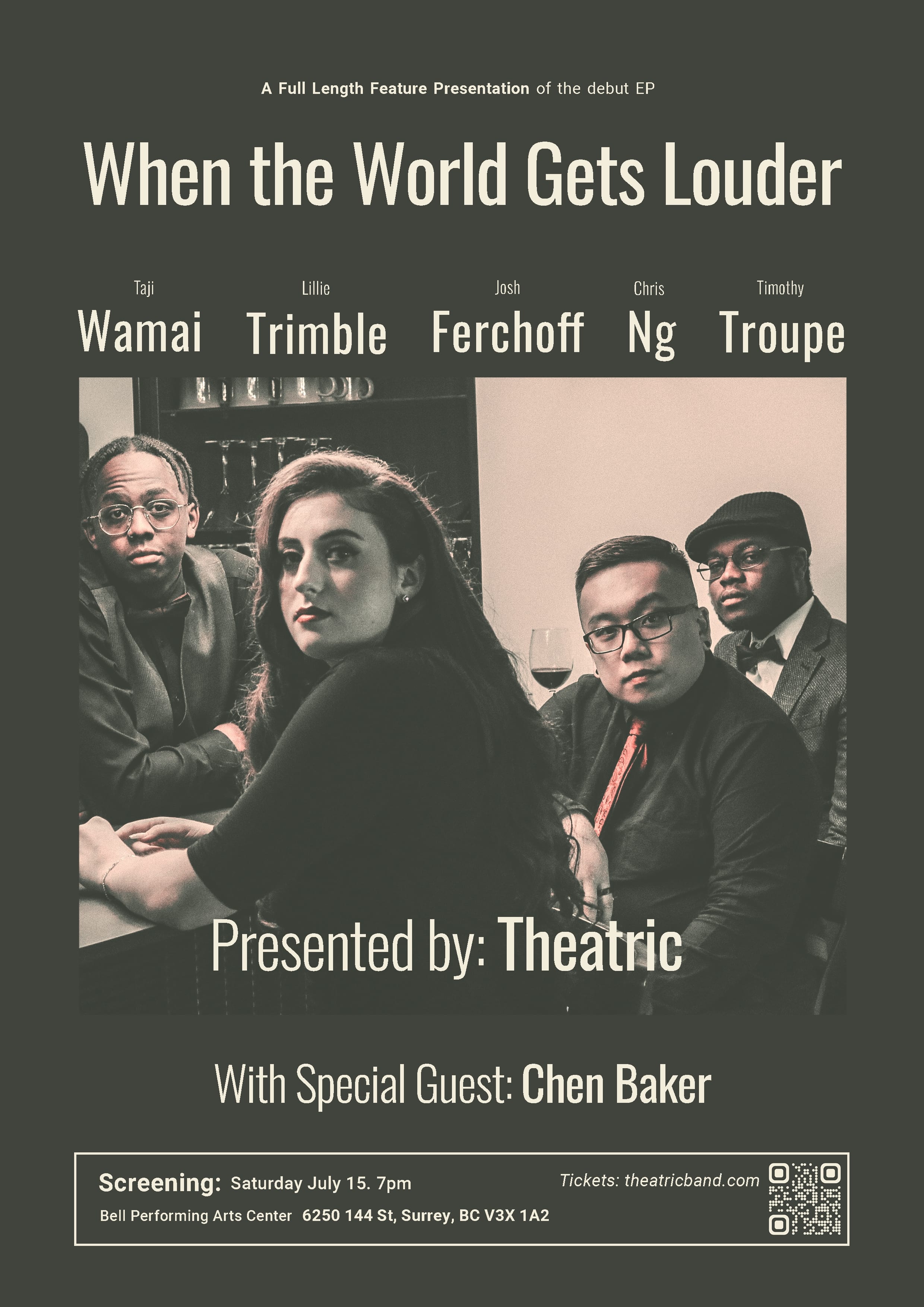 Theatric presents a full-length feature presentation of the debut EP "When the World Gets Louder" with special guest Chen Baker!
Theatric display both style and substance within their expressive catalog of music. Though Lillie Trimble (singer), Chris Ng (lead guitarist), Tim Troupe (rhythm guitarist), Josh Ferchoff (bassist), and Taji Wamai (drummer) are new to the Vancouver music scene, the pop quartet performs with an intensity and maturity beyond their years.
Despite their identity as a pop act, the members of Theatric are not afraid to combine ambitious live musicianship with catchy songwriting and modern production. Theatric cite both 70s and 80s icons like Michael Jackson, Prince, and Whitney Houston and contemporary pop stars like Bruno Mars and The Weeknd as sources of inspiration, which inspires them to blend funk and rock elements into their accessible brand of songwriting.
Theatric's conceptual EP "When the World Gets Louder" fuses upbeat synth-pop with anthemic rock & roll. In their first project, the group aims to initiate listeners into their cinematic soundscapes whilst addressing complex topics such as mental health issues and toxic relationships.
Please be advised: Any Public Health Orders in place on the day of the event will need to be adhered to.
There are no refunds or exchanges on tickets. (If the performance is rescheduled due to a Provincial Health order, tickets will be valid for the rescheduled date or refunded at the discretion of the promoter.)
All patrons over the age of 1 year old must have a ticket in order to enter the auditorium.